I recently represented the Philadelphia Google Developers' Group, a group I have been helping manage for close to 9 years, at Technical.ly's Super Meetup event, an event that brought together local technology and entrepreneur communities for an evening of social festivities. And while Zoom events don't have the same vibe as the in-person events that the event has traditionally been, the Technical.ly crew did a good job bringing people together for an evening of community talks and nerd-trivia 🙂
As part of the event, they had the group leads talk about how the groups have fared during the pandemic. You can read all the responses here and I am pasting mine here as well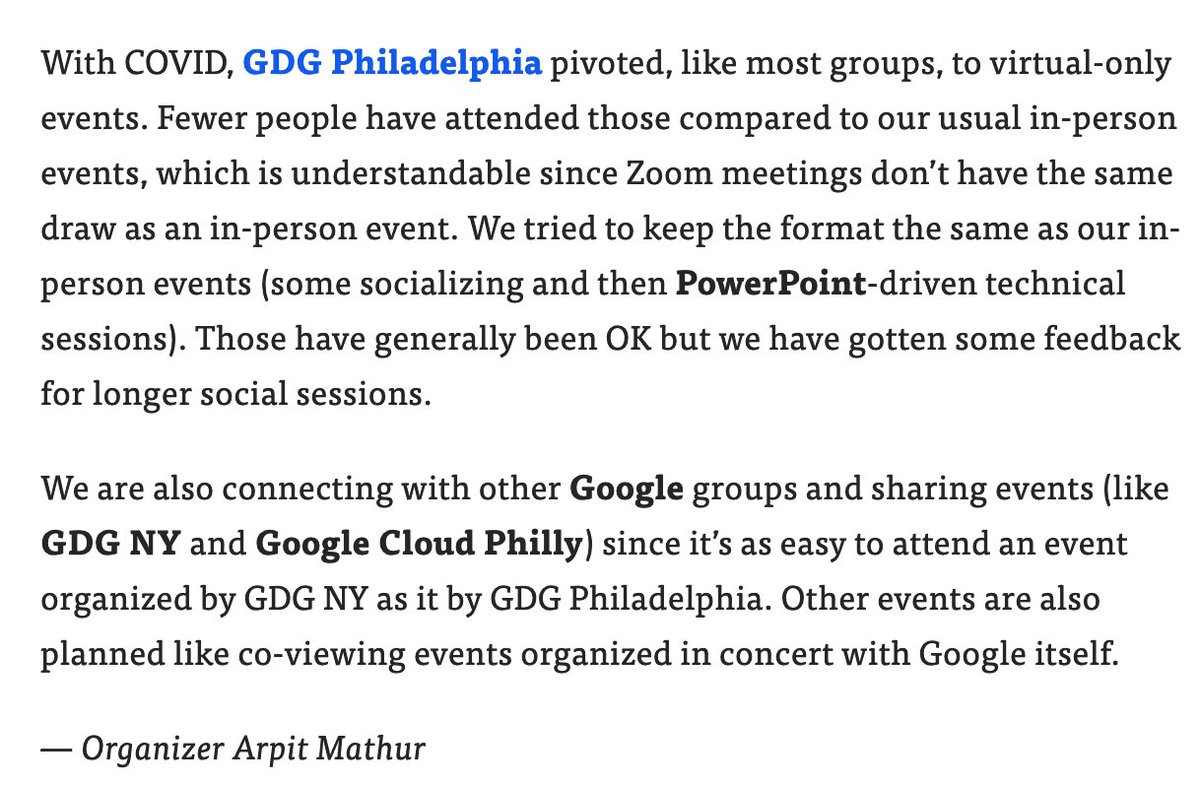 The question gave me a little time to reflect on our setup, and generally we are doing the best we can of a really weird situation. I am really looking forward to a time when we'll be able to meet face to face again but that doesn't seem like its going to be anytime soon. But the virtual nature of all meetups has given us more opportunities to collaborate beyond our local neighborhood.
Probably the biggest change has been the activity on our Slack account which we had only recently moved to, as we moved away from the larger PhillyDev Slack community. That decision seems to have been the right one and I hope more folks from our Meetup.com page join us there.
The virtual events have allowed us some non-traditional events as well like Mike Zorn's book club meeting every Monday evening where we are going through books on Kotlin and Android programming and some co-viewing events we are running in collaboration with the Google Cloud team that have been personally very educational as well.
I recently attended a virtual event hosted by Promptworks which was really interesting as well. I hadn't realized till that event that Zoom offered breakout rooms which is great. I might try that for our next event. Anything to lower to speaker/attendance ratio which makes the conversations feel more intimate
Catering seems to be becoming a part of some events as well. The Google events we helped with had catered lunches through Grubhub which was great (who knew Grubhub had a corporate events group 🤷‍♂️) though the Promptworks team won that round with some amazing food and wine delivered to the attendees. It might be too expensive for monthly events but might be an option for special occasions
Video collaboration tools still feel poorly designed for a professional communities though. Most are designed around a talking-head + shared screen experience and aren't nearly as collaborative or inclusive as in-person events. There is an opportunity for a product here, though it would have to be with a very different business model, since most communities don't charge their users to attend their events and so can't afford to pay for individual seats.
Maybe its something a company like LinkedIn could be interested in offering to professional communities?